100th blog: Get medieval on your summer!
This is the one-hundredth article published on Leiden Medievalists Blog! To celebrate this milestone, the editorial team shares some of their favorite medieval things to do this summer.
Over the past 46 months since we started the Leiden Medievalist Blog, nearly 40 Leiden Medievalists have written a grand total of 99 articles for the blog, amassing over 300 thousand views. Together, they cover an amazing breadth of medieval topics and specialisms. From the Persian origins of Brad Pitt's tattoo to Medieval horror stories, you never need to get 'boared' reading our blog. If you are looking for more light-hearted medieval activities to do this summer, in this one-hundredth anniversary article you can find some suggestions by the editors Jip Barreveld, Marlisa den Hartog and Thijs Porck.
Medieval media

Marlisa: One of my favorite documentaries about the Middle Ages is The Dark Ages: An Age of Light (BBC, 2012). It is a four part series presented by British art historian Waldemar Januszczak that highlights the beautiful art and architecture that was produced during the so-called "Dark Ages". Every episode is about an hour in length, and they are respectively focused on the art of Early Christianity; the Huns, Vandals and Goths; Islamic art; and the Vikings and Anglo-Saxons. I especially loved the part where they have a modern craftsman recreate a piece of medieval jewelry! All four episodes can be found here on YouTube.
Thijs: On recommendation of some of my students, I have started playing The Lord of the Rings Online, which allows you to run wild and free through J. R. R. Tolkien's Middle-earth. The connection with the Middle Ages may not be entirely to clear everyone but, just like Tolkien's fiction was heavily influenced by the medieval languages and literatures he studied and taught, so too this virtual world is imbued with the medieval. Characters have names from Old Norse and Old English literature, and objects, quests, and settings are inspired by the Middle Ages. At some point, I hope to reach Rohan in the game and meet some Rohirrim, who, in the books, talk Old English and sing medieval-inspired songs.
Jip: I am currently playing Age of Empires II. It is a classic strategy game from my youth, published in 1999. With the recent 'Definitive Edition' remaster from 2019 though, there is more than just nostalgia to come back to, with dozens of historical campaigns which put you in the shoes of a medieval 'conqueror', such as Barbarossa, Attila the Hun or the legendary Joan of Arc. The narratives are unsurprisingly romanticized, but still well written. It is a difficult game though, so for those looking for a more laid-back experience I will recommend a movie as well: King Arthur (2004) with Clive Owen and Keira Knightley. Not exactly historically accurate, but it is one of the few movies that covers 'my' period (around 400-700 AD), and does a good job showing some of the complexities of that era. In the movie, Arthur ('Artorius') is a Sarmatian knight from the Ukrainian steppe serving in the Late Roman army, allying with the 'Woads' (Picts) from modern Scotland to defend Hadrian's Wall against a Saxon invasion of Britain.
Medieval fiction
Jip: Admittedly, I read too little fiction these days… So, I will recommend a children's novel I think most Dutch readers of the blog will be familiar with, but deserves to be read by an international audience as well: Thea Beckman's Crusade in Jeans. The story follows a modern boy who, following an experiment with a time machine, finds himself in the middle of the Children's Crusade of 1212, where a group of slavers deceived a group of children to go on crusade for Jerusalem. Sadly, the book does tend to overemphasize the main character's modern ingenuity in contrast to medieval ignorance. Still, it is a good read, especially for a younger audience.
Marlisa: Umberto Eco's The name of the rose is rightfully one of the most popular books set in the Middle Ages, but I would love to recommend a less familiar book by Eco that I found equally entertaining: Baudolino. It tells the story of Baudolino's travels through medieval Europe and way beyond. Any student of medieval history will love Eco's descriptions of medieval Paris and Constantinople, as well as his references to famous elements of medieval history like the Letter of Prestor John and the story about the Old Man of the Mountain. The character Baudolino is a fascinating narrator whose accounts are often fantastical and unreliable, and his witty observations made me laugh out loud on several occasions.
Thijs: I have started re-reading Mark Twain's A Connecticut Yankee at King Arthur's Court and am enjoying it very much. The basic story will be familiar to most: Hank Morgan, a man from 19th-century Connecticut unwittingly travels back in time and ends up in early medieval Britain. Using his knowledge of the future, Hank manages to grasp power and tries to modernize Arthurian society with varying success, culminating in an apocalyptic battle between armoured knights and modern machine guns. It is a funny and intelligent book, which does a great job in satirizing the language and style of Thomas Mallory's Morte Darthur. It dispels romanticized notions of the Middle Ages and also functions as a good reminder, for those who need it, that modern American ideas are not always applicable to the Middle Ages.
Medieval DIY activity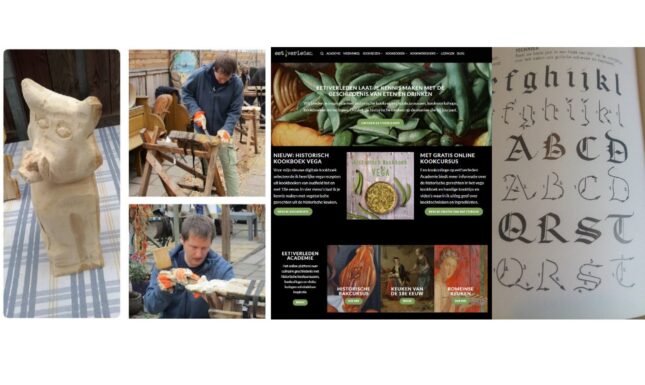 Thijs: I actually like medieval DIY-ing because it gives you a great appreciation for the craftsmanship of the Middle Ages. Over time, I've followed workshops on various medieval crafts, including Bayeux-tapestry-style embroidery, medieval tile baking and medieval pottery. The workshop I liked best was not medieval-themed but did make me feel like a medieval craftsman: a 6-hour long woodcarving workshop – you start with a piece of wood and using nothing but some woodworking tools and a lot of patience that piece of wood is turned into something else. My hand-carved wooden boar (see picture) is something I am quite proud of! Apparently there is a Dutch guild that specializes in medieval woodworking, the St. Thomas Guild in Nijmegen – if they ever do a workshop I may attend.
Marlisa: What better way to spend a rainy summer afternoon than to experiment with some medieval cookery? On the website of Eet!verleden you can find many medieval recipes, including a thirteenth-century Arab recipe for pasta, a fourteenth-century English recipe for poached pears, and a fifteenth-century Flemish recipe for spiced wine. Several cookbooks and ingredients can be ordered in the webshop as well.
Jip: I have two left hands, as we say in Dutch, so I am not much of a DIY'er. One fun activity I enjoyed doing, though, was a workshop calligraphy on Gothic miniscule at Museum Meermanno in The Hague (and you get to dress up as a monk!). You can learn from home too, using a guide from a book or the internet. Trying your hand at medieval calligraphy makes you appreciate all the hard work of medieval copyists, without whom we as historians would not have had anything to study in the first place.
Medieval excursions near Leiden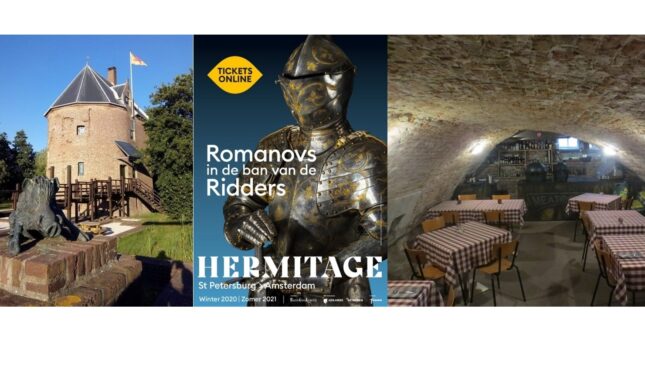 Thijs: About forty minutes' cycling from Leiden's Central station lies Huys Dever, a 14th-century donjon built around 1375. The donjon has retained many of its medieval elements, including a medieval oven in its cellar. It also houses a little museum on the top floor with archaeological finds and documents related to Huys Dever and late medieval Holland. Admittance is free of charge, from Wednesday to Sunday between 14:00 and 17:00. An added bonus, for me, is the name of the donjon, which is derived from the surname of the man responsible for building it: Reinier d'Ever (c. 1346-1417), i.e. Reinier the Boar.
Marlisa: At the Hermitage museum in Amsterdam (only about a half-hour train ride from Leiden) you can visit the exhibition Romanovs in de ban van ridders that shows the medieval collection of the Russian tsars. This collection gives a wonderful overview of some of the highlights of medieval art, including tournament helmets shaped like fantastical beasts, liturgical treasures, and intricately carved wooden chests. The exhibition also tells the fascinating story of 19th-century Medievalism, with many aristocrats aspiring to re-live the Middle Ages through masked balls and tournaments.
Jip: You do not actually need to leave Leiden at all to find the middle ages! The Burcht, the Pieterskerk, the Hooglandse Kerk and the Gravensteen are medieval sites familiar to every 'Leidenaar'. But did you know there are a number of late medieval cellars hidden in plain sight? Sadly, the 'Leiden Underground' tour was discontinued at the beginning of the pandemic, but there are still a couple of cellars you can visit on your own (hopefully, if the shopkeepers let you in): Breestraat 113, which used to be the Van Stockum bookshop; a jewelry store at Breestraat 97; and the restaurant Annie's at Hoogstraat 1A. While not very spectacular, they are a useful reminder of Leiden's own medieval origins.
Medieval excursions a little further away
Marlisa: Any fan of medieval castles ought to pay a visit to Château de Guédelon, near Treigny in France. At this site, a 12th-13th-century castle is being built solely using medieval techniques and materials. This project of experimental archeology has been taking place since 1997, so the castle is almost complete, but there is still plenty to see. Visiting Guédelon is like being on a medieval construction site, where walls are painted with hand-made dyes from natural ingredients, and building materials are lifted with man-powered treadmills.
Jip: Next time you are in northern Italy, skip the beaches of Rimini or the pigeon-filled plazas of Venice and head straight for Ravenna. Here you can visit the mausoleum of King Theoderic the Great (454-526) and feast your eyes on the many beautiful churches and mosaics of the Ostrogothic and Byzantine period. The most famous of these is the portrait of emperor Justinian (482-565) from the Basilica of San Vitale, which somehow manages to find its way into every book or documentary about Byzantium. Ravenna is situated in former marshland, now reclaimed, and the town has a lot of bicycle infrastructure. As a Dutch person this makes for a strange combination of feeling at home and abroad simultaneously. It is quite a surreal experience to me cycling through the 'polder'-like landscape around Ravenna to visit the sixth-century Basilica of Sant' Apollinare in Classe.
Thijs: Rather not leave the country? One of my favourite medieval places is Egmond-Binnen, where you can visit the remnants of a medieval church dedicated to the Anglo-Saxon saint Adelbertus (d. c.740): the Adelbertusakker, which is the place where this missionary saint was buried. In 922, Adelbertus' bones were translated to the nearby Egmond Abbey in 922, which grew to be one of the wealthiest and most influential cultural centres in late medieval Holland, due to the miracle cult of Saint Adelbertus. You can still visit the current abbey (rebuilt in the 1930s) and see some of Adelbertus' relics and visit a museum about the history of the abbey and its surroundings (for more information about the saint and the beer that is brewed with water from his holy well, see this interview).
There is an intriguing connection between Adelbertus and Leiden University: due to the cult of its patron saint Adelbertus, Egmond Abbey grew very rich and when the abbey was sacked in 1573 on the orders of William of Orange, the spoils helped pay for the founding of Leiden Universiy two years later. Without the early medieval saint Adelbertus, in other words, there would be no Leiden University and no Leiden Medievalists Blog!
© Jip Barreveld, Marlisa den Hartog, Thijs Porck and Leiden Medievalists Blog, 2021. Unauthorised use and/or duplication of this material without express and written permission from this site's author and/or owner is strictly prohibited. Excerpts and links may be used, provided that full and clear credit is given to Jip Barreveld, Marlisa den Hartog, Thijs Porck and Leiden Medievalists Blog with appropriate and specific direction to the original content.